industrial skylights, smoke vents, & Domes
Acralight Solar offers a variety of industrial daylighting solutions. We manufacture each of our products in the United States using the best possible materials. We are committed to excellence and are confident in the quality of our solutions.
You can browse our products online, or download our catalog if you prefer. If you would like to learn more about specific products or get personalized guidance, get in touch with our friendly and knowledgeable team. We are happy to guide you through the process.
Choose the Best Industrial Daylighting Products
Acralight Solar has over three decades of daylighting experience and we provide the best products available, including skylights and add-ons. We can help you find the best solutions for your needs whether you are retrofitting an old daylight system or installing a new one. Our products are American-made and we offer cost-effective nationwide coverage.
Skylights allow natural light into your industrial structure, reducing or eliminating the need for artificial lighting. Our industrial skylights provide unsurpassed quality and performance and are manufactured with energy efficiency as a top priority. You can save a significant amount on your energy bill with our daylighting solutions and they are also engineered to be secure and sturdy. We have fixed and operable models available and offer a variety of glazing options.


Smoke vents create a way for smoke or hot air to escape a building and are typically required by various regulations. In the event of a fire, this can save lives by reducing the risk of smoke inhalation. These vents are equipped with a fusible link in order to open automatically when exposed to heat. We have curb-mounted, self-flashing, louvered base, and metal lid models available. Our smoke vents are also available with an inside and/or outside manual release.
If you have existing skylights and need to replace the domes, Acralight Solar can help. We offer high-quality skylight domes made from durable materials. These products are engineered to offer excellent energy efficiency. The glazing options for our acrylic domes include white, clear, grey, or bronze, as well as white SkyTough UL 972 Listed glazing and impact-modified prismatic acrylic. We are happy to consult with you to determine which domes best fit your needs.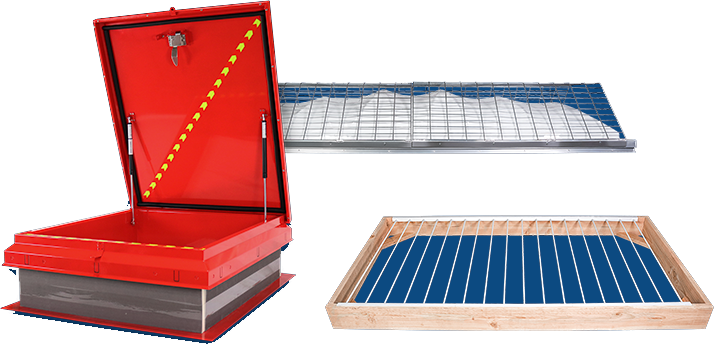 We offer add-ons that can help to improve the safety and security of your skylights. These include fall-protection screens, which meet the intent of the Occupational Safety and Health Administration's (OSHA's) fall-protection standard. We also offer steel burglar bars for skylights and smoke vents. Our accessories can be retrofitted for existing skylights or installed for new daylighting systems, and both standard and custom sizing options are available.
Acralight offers a variety of certified products including FM-approved skylights, International Code Council (ICC) skylights, UL-listed smoke vents, and Occupational Health and Safety Administration (OSHA) approved fall protection products. Various building codes and industries may require these certifications. If your industrial building needs daylighting options that meet these requirements, we can help you find what you are looking for.


Skylight bases allow you to set your skylights to provide additional ventilation and light. We manufacture louvered bases which provide circulation from the interior to the exterior and vice versa. The louver blades are rain-resistant, so your structure will have proper ventilation while remaining protected from the elements. In addition to improving the light and circulation, bases give your skylights a more leveraged look. We have a variety of sizes available for our bases.
Contact us today to learn more about our engineered daylight harvesting solutions