Acralight offers a variety of add-ons and accessories for our skylights and smoke vents. These allow you to further improve the functionality of your daylighting system and to customize it based on your organization's needs. Some accessories may be required by various regulatory bodies or building codes, so it's important to be aware if these apply to your industrial space.
Add Features to Your Skylights
At Acralight, we are committed to manufacturing daylighting products and accessories of the highest possible quality. Many of our skylight accessories meet the requirements for various certifications and our experts are happy to help you find what you are looking for.
Add Accessories to New
Or Existing Skylights
We can add accessories to new daylighting systems. This makes it easy to ensure your skylights or smoke vents are compliant with all necessary regulations from the beginning. We are also able to retrofit our skylight accessories to older systems. Both standard and custom sizing options are available and our experts can help you determine exactly what is necessary for your industrial structure's daylighting system.
The Occupational Safety and Health Administration (OSHA) defines skylights as holes/openings. This is because even though they are covered with glass or acrylic, they are typically not designed to withstand the full weight of a person falling or leaning on them. As a result, it's necessary to ensure adequate fall protection measures are taken to help ensure the safety of anyone working on the roof. There are multiple options for how to do this and adding safety accessories to your daylighting system is one of the easiest and most cost-effective.

Burglar Bars/Safety Grills
One option for skylight fall protection is to add steel bars, known as burglar bars or safety grills. These also improve the security of your daylighting system. Removing these bars is time-consuming and installing them on your skylights is a powerful deterrent against burglary. Both standard and custom sizes are available and we design our burglar bars to minimize the impact on light transmittance, ensuring your system is safe, secure, and functional.

Acralight manufacturers fall protection screens that can be fitted to skylights' interiors or exteriors. We can retrofit these accessories to an existing model or add them to a new skylight. Our fall protection screens meet the intent of the OSHA fall protection standard and are made of galvanized steel with an optional white powder coat finish.
Acralight provides galvanized steel or aluminum roo access hatches. These products are designed for safety and reliability and have an extended cap flushing which is pre-punched to receive a safety railing system or Acragrab, which is a secure handle for entering/exiting the hatch. Our roof access hatch railing systems our OSHA compliant. The lid has a cross-broken design to reduce the risk of water pooling on it and you have the option to add a dome to the lid for natural daylighting.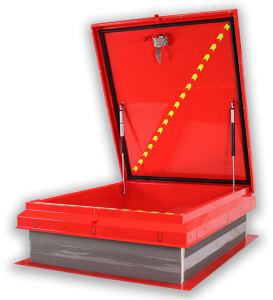 We offer additional features for our skylight bases that improve their functionality and security. This is in addition to our other base systems and we can help you determine which would be best for your needs.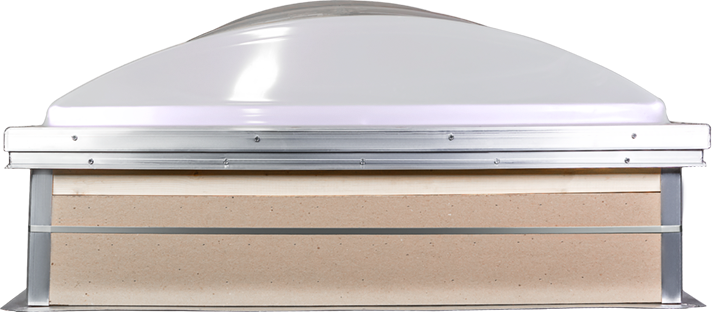 Self-flashing skylight bases have a low profile relative to your roof and can fit directly over an opening as opposed to needing a curb for installation.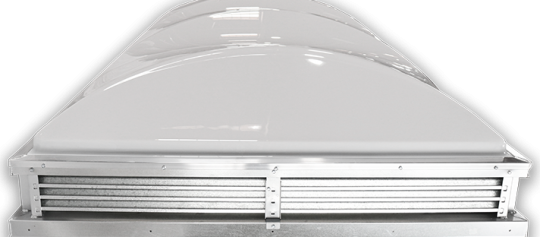 Our louver blades allow for additional ventilation while keeping undesirable elements (such as dust and rain) out of your structure. Air movement can also help control the temperature of your industrial space, which is beneficial for keeping energy costs down.
Contact us today to learn more about our options replacement skylight domes.